! Comments: Romantic Weekend Getaway Wedding Anniversary Honeymoon Colorado CO>




Please click photos to see a larger view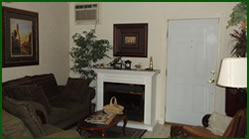 You can enjoy a yard game of croquet, horseshoes or badminton while breathing in the fresh country air. Play a board game, work on a jigsaw puzzle or just relax under our large covered porch and take in the beauty of a Colorado sunset. Our parlor invites you to view a video from our large movie selection, or you may want to spend some quiet time nestled with a good book in our sunroom.
Our Rooms
Please click photos to see a larger view
| | |
| --- | --- |
| | The Garden Room: Named for its floral accents and miniature lights decorating the canopy of the king size iron bed. This enchanting room has a pecan bedroom set and lace curtains tied back with small bouquets of flowers. A candlelight dinner can be served on your wicker/iron dinette, while you enjoy the view of snow capped mountains. $119.00/single $139.00/double |




| | |
| --- | --- |
| The Willow Room: A large romantic room with a grand view of the mountains by day and twinkling lights of nearby towns at night. This room features a king size bed with a canopy of soft vanilla tulle and tiny lights, the bedroom set is oak with an armoire. Soft colors compliment the hand hand-picked floral border and forest green accents. $129.00/single $149.00/double | |




The Victorian Rose: Step into a bygone era. This elegant room is richly furnished with a Queen Anne bedroom suite, crystal wall sconces and tiny lights with rose accents. The private bath features an antique gold footed soaking tub with a Queen Anne vanity.
$109.00/single $129.00/double

Oak Room: Quaint and charming, this room has twin beds, crisp priscilla curtains,and an oak hardwood floor. The bathroom has a large sunken tub with shower, tiled with mosaic tile and friendly black bear accents.

$79.00 single $109.00 double

All of our guest rooms provide Air Conditioning for your comfort.
Dining at Willow Tree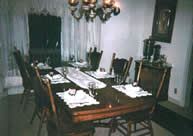 [Click for Dining Room Virtual Tour]



Please click photos to see a larger view

Breakfast: Served from 7:00 am to 9:00 am. At your leisure, enjoy a gourmet breakfast that includes fresh juice, mouthwatering bread or pastry, hot beverages, fresh fruit, whole grain cereal and a piping hot entree. A continental breakfast "to go" for early departures can be arranged in advance.

Luncheons: Please make reservations for our dining room or for box lunches "to go".

Dinner: Our complimentary light dinner is served from 5:00 pm to 7:00 pm. Please make reservations if you would like to purchase a pizza, a full dinner, or a six-course gourmet dinner served in your room between 6:00 pm and 9:00 pm.
Willow Tree Country Inn
Post Office Box 160 · Bennett CO 80102
Phone: 303-644-3801 · Fax: 303-644-3801 · Toll Free: 800-257-1241
email: info@willowtreebb.com · website: www.willowtreebb.com
Website hosting & promotion by Acorn Internet Services, LLC